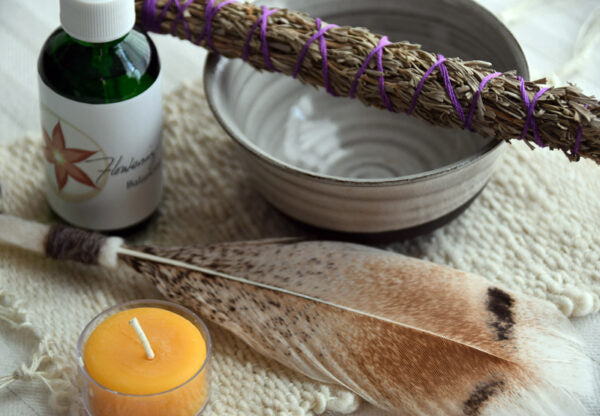 Ritual Tools
Ritual is a powerful symbolic act that gives form to your prayers and tangible shape to your intentions. Each item is hand crafted with ethics, intention and sacred purpose.
Read More About Ritual
Sage and Cedar Smudge Ritual Kit
Regular price
Sale price
$60.00 USD
Unit price
per
This Home Blessing Smudge Ritual kit is earthy and full of texture and fragrance. Cedar, fir and sage help purify and bless your home. It can support you in fall cleaning, clutter clearing and getting ready to hibernate in cooler weather.
Note – these are handmade products; each set is very unique and will have variations in feather coloration and bowl glaze and shape.  Please allow 3-4 days for me to prepare your kit prior to shipping. 
In your box you will get…
Mountain sage smudge bundle
Hand-thrown pottery smudge bowl
Beeswax candle
Turkey feather fan
Balancing Spray with sage, fir and cedar, 2 ounce
Detailed instructions for how to purify and bless your spaces
Smudge Blessing Ritual Kit
Every culture has unique ways of using herbs and sacred smoke to bless and purify homes, belongings, land and even ourselves. Each item is hand-selected and carries its own unique healing properties and symbolism…

Sage and cedar excellent for cleansing and healing. Herbs and trees represent the Earth element.
Beeswax symbolizes sweetness, joy and productivity; candles represent the Fire element.
Feathers refine, lighten and uplift energy. They remind us of the Air element. The feather you receive will be Turkey, which reflects the gifts of generosity and abundance, stability, beauty and groundedness.
Pottery represents the Earth and Fire elements; it reminds us that we have the power to shape and transform our lives.
Why a Pottery Smudge Bowl?
You might wonder… why do I recommend using a ceramic smudge bowl instead of a shell? Well, there are several reasons for this.
Although they are very popular, abalone shells were not traditionally used for smudging by every culture or tribal group. In some regions, pottery is preferred. Other containers have included animal skulls, stone and cast iron.
A smudge bundle can get very hot. Heat can damage and burn a shell causing it to blacken or even break. Abalone is precious and some types are endangered – so in my ceremonies I prefer to use these beautiful shells in other ways.
Shells can transfer heat; a fire-proof bowl with sand at the bottom is more secure.
Some shells have holes that can allow ashes to fall – this just isn't practical when you're smudging your home. A bowl will safely catch any hot cinders and avoid damaging your altar, furnishings or floors.  And, for all the above reasons, I would NEVER recommend using a shell to burn a charcoal disc.

Sacred Tools
When you receive your ritual kit, give yourself some quiet time as you unbox it. Go slowly. Take in the fragrance and texture of each item. Breathe in the sweetness of the beeswax, the depth of the sage. Sit for a while with your bowl and feather. Hold them and welcome them as Sacred Tools. The more you connect with your smudge tools, the more they will become an extension of your energy and intent.

As always, if you have questions…get in touch!



Share